Authentic Farmhouse Lights
Take Your Farmhouse
To the Next Level
Do you have farmhouse decor?
Then we have farmhouse chandeliers and gifts for you!
Our most popular
awesome Collections
Our Best selling Lighting
featured products
Modern Farmhouse Owners
Just For YOU
Our clearance lighting
farm Lighting Deals
20% Additional Off First Purchase
Call Us for Today's Discount Code
Hand Blown Oil Rubbed Bronze Mini Pendant
Our handblown oil-rubbed bronze mini pendant light, with its detailed hand-wrought oil-rubbed metal, mesmerizing, amber-toned glass, and vintage hemp cord, stands as a unique vintage centerpiece in any farmhouse.
18 Light Farmhouse Dining Room Modern Starburst Chandelier
Our Modern Starburst Chandelier with its 18 lights and a modern starburst design is perfect for any modern farmhouse dining room.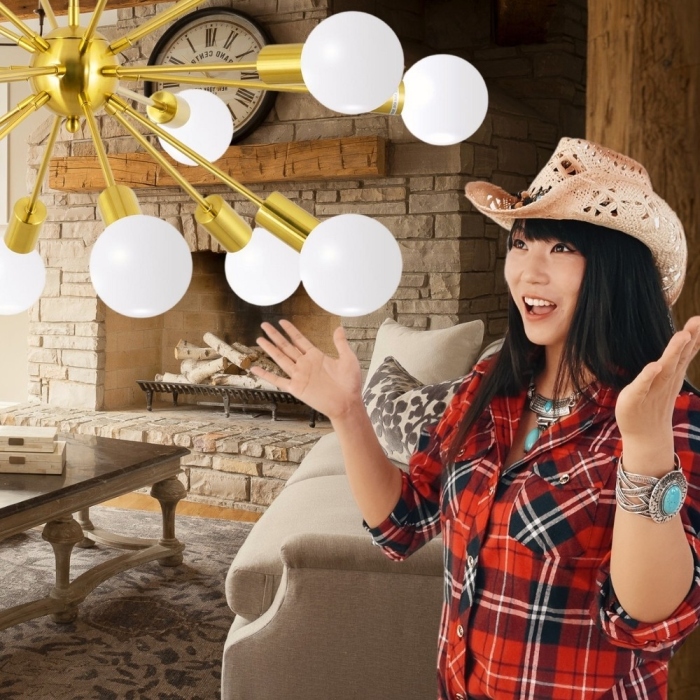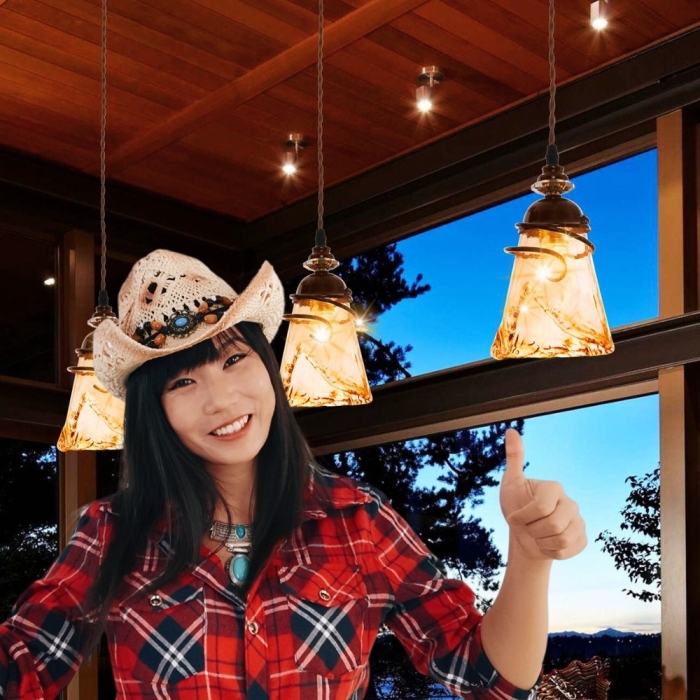 Farmhouse Island Rectangle Chandelier Barnwood Cage
The Farmhouse Island Rectangle Chandelier 4-light Linear Wooden Barnwood Cage chandelier is a fusion of country living with a rustic ambience.
6 tips to perfecting
farmhouseia lighting
TIP #1: A Kitchen Farmhouse Chandelier Creates Perfect Harmony
Because of their traditional style and practicality, farmhouse kitchen chandeliers pendant lights have risen to the forefront of today's ideal farmhouse decor. The warm, inviting atmosphere of a country home was the inspiration for the kitchen chandelier design. Chandeliers in farmhouse kitchens create a focal point and perfectly harmonizing both the kitchen and dining room. It embodies a traditonal farmhouse style, allowing it to create a cohesive farmhouse decor.
TIP #2: Unify Rustic and Modern Farmhouse Chandelier Decor
Modern farmhouse chandelier ceiling lights are an updated take on a lighting style popular in the early 20th century. This combination of modern and rustic features is the very definition unifying both rustic and modern farmhouse elegance. They shed light, provide warmth, and add personality to any modern farmhouse, making them the focal point of any decor.
TIP #3: Achive Cohisiveness With A Vintage Farmhouse Chandelier
If you're looking for that shabby chic look, then vintage farmhouse chandeliers light fixtures are a great way to create a cohesive decor with the shabby chic look and utility characterize in vintage a farmhouse decor. Creating an inviting "lived-in, worn-in" shabby chic ambiance is easy with a vintage chandelier's carefully curated combination of materials, such as reclaimed wood, distress textures, and handblown glass.
TIP #4: Farmhouse Bedroom Chandeliers v.s. Flush Mount Light
There are several rooms, especially the bedroom in a farmhouse, that benefit greatly from having a farmhouse bedroom chandelier, but what about a farmhouse flush mount light? Their comforting lighting is centrical for a heavenly night time bedroom ambiance. Flush mount lighting adds warmth and character to a bedroom when combined with shaggy cushions, antique wooden furniture, and vintage knick knacks. A modern flush or farmhouse semi-flush light fixture in the your bedroom will cast just the right amount of ambient lighting over beds piled high with comforters and pillows to make your room feel cozy and inviting.
TIP #5: Harmonize with A Farmhouse Dining Room Pendant
A dining room farmhouse pendant will be one of the most prominent additions to a dining rooms with sturdy wooden table or a kitchen island with its rustic wooden butcher block. Their warm lighting makes any distressed wooden surface feel even cozier and more authentically country. Finally, a pendant farmhouse light is at home in any rustic farmhouse, especially in the dinning room. Antique cupboards repurposed to complement the dining room along side a rustic farmhouse pendant creates a shabby chic aesthetic nicely.
TIP #6: Farmhouse Chandeliers are the Pinnacle of A Farmhouse
Farmhouse chandeliers are embodiment of rural charm and uncomplicated elegance found at the heart of every farmhouse. Farmhouse light fixtures encapsulate the traditional farmhouse aesthetic, bringing a warm, inviting mood to every part of any modern or rustic farmhouse.
The rustic and subtle beauty of farmhouse furniture and decor is a delightful representation of a lifestyle oriented on simplicity, usefulness, and peace. Farmhouse chandeliers have a distinct place among the numerous features of farmhouse design. They are more than just lighting fixtures; they are key components that tie the entire theme of the house together.
Farmhouse Chandeliers, with their barnwood construction and distressed texturs, are a great embodiment of a rustic country farmhouse charm. They embody the relaxed mood of farmhouse decor, blending exposed wood beams, earthy color palettes, antique accent knick knacks, with greenery as accents acting as a great unifier in any farmhouse style home.
In conclusion, a farmhouse style chandelier captures the essence of the farmhouse design style. So, if you want to give your home a country vibe, FarmhouseChandeliers is a great place to start.